Luminaire/ Lamp
Compact fluorescent lamps
Induction lamps
Light Emitting Diode (LED)
T5 fluorescent lamps
Tri-phosphors tube
Compact fluorescent lamps
The principle of compact fluorescent lamps (CFLs) is similar to that of fluorescent tubes. However, the ballast and the gas-filled tube of CFLs are not separated. The compact design of CFLs allows them to be used in place of incandescent light bulbs, while they are four times more efficient and can last up to 16 times longer than incandescent. CFLs come in various sizes and configurations, and can be used to replace the traditional incandescent lights in almost any application.

CFLs offer different shapes and sizes
How it can save energy & how much energy can be saved:
CFLs have long rated life for around 8,000 service hours, while incandescent light bulbs typically last only 500 to 2,000 hours. Also, CFLs use about a quarter of the power of incandescent bulbs. For example, a 22 watt CFL produces the same amount of light as a 100 watt incandescent bulb. The following table gives the comparisons of light output of CFLs and incandescent bulbs.
Further, much more energy efficient performance can be achieved if electronic ballast is used in the CFL due to the high-frequency operation of the ballast and thus improve the luminous efficacy (please click for definition). CFLs with electronic ballasts are now much more common.
Equivalent light output of CFLs and incandescent bulbs:
Equivalent light output

Compact fluorescent

Incandescent

8-10 W

40 W

11-15 W

60 W

18-20 W

75 W

20-25 W
100 W
When choosing compact fluorescent lamps, the public can refer to the Energy Efficiency Labelling Scheme operated by Electrical and Mechanical Services Department. The scheme provides a guidance to customers on selecting energy efficient CFLs. Please visit Energy Efficiency Labelling Scheme (EELS) for the details of the scheme.
Further sources of information:
Induction lamps
Induction lamps (or commonly known as electrodeless lamp) are high frequency (HF) light sources, which follow the same basic principles of converting electrical power into visible radiation as conventional fluorescent lamps. The fundamental difference between induction lamps and conventional fluorescent lamps is that the former operate without electrodes. The absence of the electrodes in the induction lamps enhances the lamp life. The invention of induction lighting is based on the principles of induction and light generation via a gas discharge. The following two figures show two typical induction lamp types. An alternative current Ip through the primary coil induces an alternative magnetic field in the ferrite core or coil. The alternative magnetic field in turn induces an alternative secondary current in the secondary coil or ring (Is).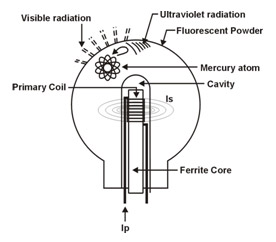 Cavity type induction lamp

External-coil type induction lamp
How it can save energy:
The loss of cathode emission materials, due to evaporation and sputtering caused by ion bombardment, limits the life of fluorescent lamps to between 5,000 to 15,000 hours. However, the life of some induction lamps on the market today reaches 60,000 hours. The long life time of the induction lamps allow them to be applied in cases where lamp maintenance and access are very difficult or expensive.

As far as lamp rating of fluorescent lamp is concerned, cathode emission limits the discharge current and thus limits the maximum power rating of the lamps. However, induction lamps do not have such restriction and rating of lamp could be up to 150W. The luminous efficacy (please click for definition) of induction lamps ranged from 48 to 80 lm/W.
How much energy can be saved?
Based on a case study carried out by Electrical and Mechanical Services Department, the energy reduction due to induction lamps can up to 24% compared with high intensity discharge (HID) lamps.
Although induction lamps can provide long extended life time, electromagnetic interference (EMI) is the major restriction of using these lamps in sensitive areas. Significant efforts have been made in suppressing magnetic and electric components to comply with existing EMI regulations. Recently, the development trend of induction lamps inclines towards lower frequency design.
To view project example, please click here.
Further sources of information:
Light Emitting Diode (LED)
LED is a semiconductor diode supported by a reflector and encapsulated with an epoxy lens for controlling light distribution. As in a normal diode, it consists of a chip of semi-conducting material doped with impurities to create a structure called a p-n junction. The operating principle of LEDs is mainly related to the movement of electrons. When current flows across a diode, negative electrons move one way and positive holes move the other way. The holes exist at a lower energy level than the free electrons. Therefore, when a free electron falls, it loses energy. This energy is released in the form of light photon. A greater energy drop releases a higher-energy photon, which is characterized by a higher frequency.

Unlike incandescent lamps that radiate a continuous spectrum, a LED emits an almost monochromatic light of a particular colour depending on the material used.
How it can save energy & how much energy can be saved:
The luminous efficacy (please click for definition) of LEDs is ranged from about 12 to 55 lm/W, depending on the lamp colour (white is 30 lm/W and red is 55 lm/W). It is much energy efficient than incandescent bulbs. When compared with fluorescent tubes, LEDs is less energy efficient (fluorescent tubes have luminous efficacy from 50 to 100 lm/W). However, fluorescent tubes are bulky, fragile and require starter circuits, while LEDs are robust and extremely compact.

LED produces the highest luminosity with DC voltage source of correct polarity. The necessary forward voltage varies between 2V and 24V at forward currents up to 70mA, depending on the colour of the LED.

Most LEDs have an operating life of 50,000 hours under normal conditions while other light sources are generally rated at 1,000 to 10,000 hours. The long operating life results in lower maintenance costs or even no maintenance at all.

As far as the light field is concerned, LEDs are focused lights, they do not radiate light in 360 degrees as an incandescent does. Therefore, they are suitable for task specific lighting such as for signal light, traffic light, decoration light etc.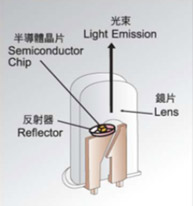 Typical structure of a LED
To view project example, please click here.
Further sources of information:
T5 fluorescent lamps
T5 lamp is a fluorescent lamp with a diameter of 16 mm (5/8"), and is more efficient than the conventional T8 or T12 lamps. The standard wattage of the T5 lamps range from 14W, 21W, 28W to 35W. High output versions are also available for some special applications. Operated with high frequency electronic ballasts, these new lamp types fulfill the principle of cost-effectiveness.

The maximum light output occurs when its ambient temperature is 35oC. At room temperature of 25oC, the T5 lamps installed in a typical recessed modular luminaire with parabolic reflectors will be operating very close to their optimum temperature.
How it can save energy:
T5 lamps have the highest luminous efficacy (please click for definition: Luminous efficacy represents the light output (in lumen, lm) that the lamp can produce per unit of power input.) of about 100 lm/W, when compared with T12 and T8 lamps (70 lm/W and 80 lm/W respectively).
In addition to high luminous efficacy, T5 lamps are specially designed for operating with electronic ballasts, which can further enhance the efficiency compared with conventional electromagnetic ballast by providing high operating frequency and reducing circuit power losses.
How much energy can be saved?
As discussed above, T5 lamps have higher luminous efficacy than that of T12 and T8 lamps. If taking into account the high frequency operation and reduced power loss due to the use of electronic ballast, 20 - 30% of energy reduction can be obtained. Please also refer to the descriptions of electronic ballast [hyperlink: Lighting > Technology Outline > ballast] for its detailed performance.
Comparisons on the energy performance of T5 and T8 lamp of similar light output
Lamp type

Lamp power (W)

Initial light output (lm)

Input power (W)

Luminous flux per circuit power (lm/W)

T8
18
36
58
1150
2850
4600
20
36
56
57.5
79
82
T5
21
28
35
2100
2900
3650
25
32
39
84
90.5
93.5
Further sources of information:
Tri-phosphors tube
In fluorescent tube technology, there are two common types of fluorescent coatings on the inner surface of the tube namely standard halo-phosphate and tri-phosphors coating. Halo-phosphate is limited in their ability to provide a high colour rendering index without sacrificing lighting output. However, tri-phosphors are a blend of three narrow-band phosphors (red, blue, and green) that provide improved colour rendering and higher light output versus some other types of phosphors.
How it can save energy:
Fluorescent tubes with tri-phosphate coating offer better colour rendering and lighting output with the same power input as halo-phosphate coated tubes. Therefore the luminous efficacy (please click for definition) of the lamp is improved. The light output of the tri-phosphor lamp drops (due to aging) at a slower rate and its longer life also helps to reduce environmental pollution. The following table shows the comparisons of halo-phosphate and tri-phosphor lamp.
| Operating characteristics | Lamp power (W) | Initial light output (lm) |
| --- | --- | --- |
| Lumen output | 2,800 lumens | 3,200 lumens |
| Average rated life | 8,000 hours | 15,000 hours |
| Colour rendering index | < 60 (poor colour rendering, especially red) | > 80 (better true colour) |
| Light depreciation | 80% at 10,000 hours | 90% at 10,000 hours |
How much energy can be saved?
The light output of a T8 1200mm tri-phosphors tube is around 18% more than that of a standard halo-phosphate tube with the same power consumption. Further, since the base cap of the tri-phosphor lamps is the same as that of the halo-phosphate lamps, it is not require to replace light fittings when retrofitting halo-phosphate tubes with tri-phosphor tubes.
Luminous efficacy: Luminous efficacy represents the light output (in lumen, lm) that the lamp can produce per unit of power input.